Systeme io Questions and Answers (FAQ)
Each of the plans (except the Unlimited Plan) in Systeme has a limit for the number of sales funnels, steps, automation rules, etc that you can create.
If you are in the Startup Plan, the number of Sales Funnels limit is 10. To have an overview of the available quota and how many features quota you have utilized, you can always check in My Plan. Point your mouse to the profile avatar on the screen's top-right. From the drop-down menu, select My plan.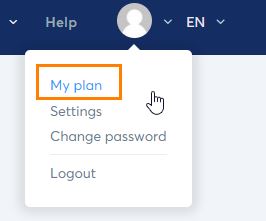 The My plan page will show your currently subscribed plan and the quota you are currently utilizing.
Once you have maxed out the quota given in a particular plan, you can upgrade to a higher plan. The highest plan available for you to upgrade is the Unlimited Plan.