In this age and century, the Internet and social media have become part of our lives. In fact, the first thing we check when waking up in the morning is WhatsApp, Facebook, or even email, and of course, an internet connection is required in order to access those apps.
What internet or social media has to do with Brizy Cloud? You asked.
When internet usage and penetration are high, that results in huge demand where people use the internet to look for products or services online. As an entrepreneur, you definitely do not want to miss out. You want to have an online presence and be able to reach out to an untapped audience, who has the potential to become your potential customers.
That's where Brizy Cloud play the part. It allows newbies, without technical experience or being savvy to build their own webpage. Brizy offers a visual builder with drag-and-drop simplicity so that you can create a stunningly beautiful website, landing page, product catalogue, RSVP page, or even put up a photo gallery to showcase your last summer vacation photos!
Introduction
In a nutshell, Brizy Cloud is a hosted solution user-friendly site builder, that you can quickly log in and use without needing to know about hosting server, website coding, and other technical stuff. The fact that it utilizes the What-you-See-Is-What-You-Get (WYSIWYG) editor makes the whole building experience is very pleasant and easy.
Example Types of Sites
Before I go into more details, let's have a quick glance at the types of sites Brizy Cloud is capable of building. This is just a small sample of the layouts (or templates). In fact, it has over 100+ growing premium layouts ready for you to kick start your next website!
It has wide categories of layouts from Business, Health and Beauty, Real-Estate, Automotive, Portfolio, Travel, Children, Gaming, Food and many more. This is a professionally-crafted template with lots of effort put in by the design team that can be easily edited and is not simple wireframes.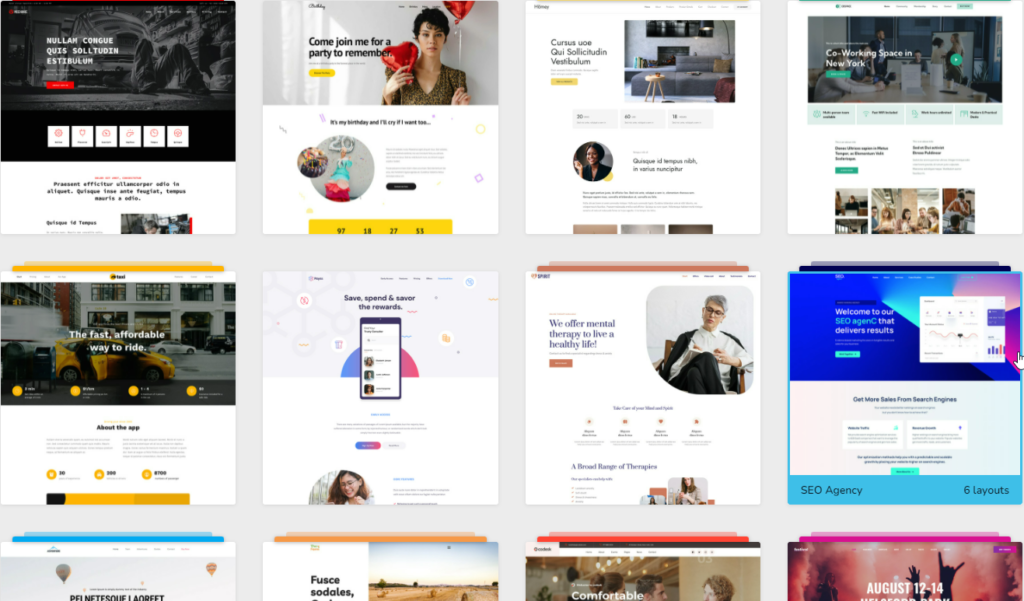 Who is Behind Brizy Cloud?
Brizy Cloud was built by the same team who created ThemeFuse. They have vast experience in development works especially WordPress Themes and Plugins.
More than a decade of experience in web projects and excellent track records.
Headed by Dimitrie Baitanciuc as the co-founder and CEO, other executive teams including Sergiu, Alex and Bogdan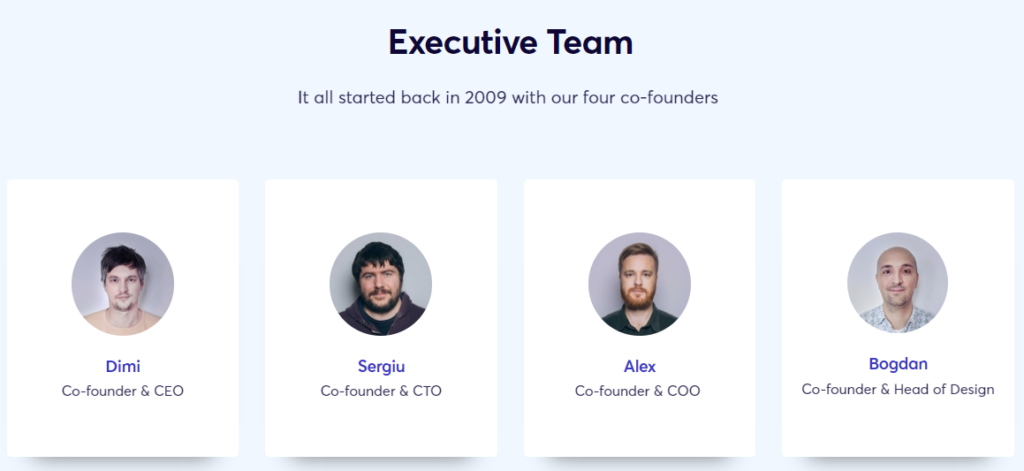 Do I Need WordPress To Use Brizy?
Brizy Cloud is a standalone platform where everything from A-Z is done within Brizy's own platform, no WordPress is required. However, if you are a more savvy person with web building experience, or you are familiar with WordPress, you have the option to opt for the Brizy WordPress plugin.
The Main Differences Between Brizy Cloud and Brizy WordPress
Brizy Cloud is an all-inclusive platform that offers the same building tools like the WordPress version but also includes unlimited Cloud hosting. Brizy Cloud is offered as a Software-As-A-Service (SAAS) where the software updates, security and any other technical issues are taken care of.
Whereas Brizy WordPress is a WordPress Plugin that you have to install on your own hosting server and manage yourself. Since Brizy WordPress runs on the WordPress platform, you are able to install plugins or themes that you find suitable. Brizy WordPress is also an alternative to Divi, Elementor, Thrive Architect, Oxygen and other WordPress builder plugins.
For newbies, who has no background or experience in website building, Brizy Cloud is a perfect choice. No headache, no wasting time fixing errors or plugins clashes. Just log in and use it. I knew some of the customers who have programming backgrounds still prefer Brizy Cloud as it is hassle-free, allowing them to focus on their business rather than wasting time on the technical aspect.
How Does Drag-and-Drop Builder Works?
Building a website is like building a Lego model, you stack the Lego bricks one after another. Where do you place the next Lego bricks depends on what do you want to build. Likewise in Brizy Cloud, to build a webpage you will drag the elements (on the left) to the canvas. What you see on the canvas is what is shown on the actual website.
Elements are the component that you want to show on the website. For example, if you want to create a squeeze page to collect the customer's names and emails, you would insert a text element (so that you can write the headline or some call to action text) and perhaps the image element so that you can upload the book cover illustration.
There are tons of elements at your disposal depending on what you need, for example, video, audio, line, map, form, etc to name a few.
How Can Brizy Cloud Help Me in Speeding Up Page Building?
There are many great factors that help users to build web pages in the shortest time possible, including the responsive drag and drop visual website builder, easy user interface, and overall how the elements, functions are organized and arranged.
Besides that, there are 4 built-in functions that contribute to time-saving when building a webpage. They are Layouts, Blocks, Saved Blocks and Layouts and Global Blocks
Layouts
Layouts are templates. You can choose to start your website completely from scratch or with starting using a layout. The layout in Brizy Cloud offers you not just a single page but a complete website which for example consists of a homepage, about, pricing, contact, etc.
The layout is done for you so all you have to do is to modify it to suit your business or the content that you want to publish. That means you are saving time manually designing or coming out with ideas on how to make the page look great. Instead, you just need to browse and choose the layout that you like.
Blocks
In contrast to Layouts, Blocks consist of smaller sections of the site.
For example, Pricing Block provides you with pre-made pricing tables or grids so that you can showcase your product or services pricing plans. It is as easy as replacing the text on the pricing table. Likewise, the Featured Block give you the convenience to highlight important content just by swapping with your product or relevant image and text.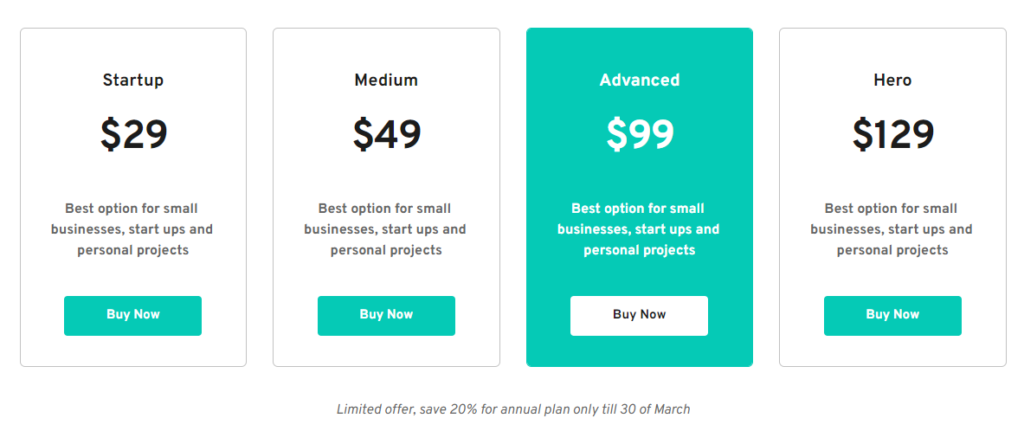 There are many more blocks such as header, footer, gallery, testimonials, etc. making building websites fast!
Saved Blocks and Layouts
There are times when you want to use the same blocks or layouts that you have created earlier. This is when Saved Blocks and Layouts come in handy.
Quickly retrieving any layouts or blocks you have saved earlier to re-use them in the new website is really a breeze.
Global Blocks
Last but not least, the Global Blocks ensure consistency and it is a feature that is going to save you from the mess you may create without you knowing.
When you active the Global Blocks feature, any blocks that you use on another webpage will be synchronized. in other words, the text or content will be the same. It is frequently used for the navigation menu, and of course, can be used for any other blocks that you selected.
Take for example you have created the navigation menu that consists of Home, About Us, Our Products, and Contact. The menu needs to appear the same on all pages of the website. So instead of creating the menu manually on each and every page (Home, About Us, Our Products, and Contact), you may assign the menu as Global Block. That will ensure anything you change on one page reflects instantly on all other pages. It maintains consistency and saves you time and hassles.
Does The Website Mobile Responsive?
The website created in Brizy Cloud is mobile device responsive out of the box. Depending on the elements and your design, you may need to further optimize it so that the text size, the image position, etc are looking great.
While editing your website, you can select the device to do the display test. There are Desktop, Tablet and Mobile which are 3 commonly used devices.
The style or size editing you do on mobile will only apply to the mobile device, so it does not affect the Desktop display which might already look good.
For example, in mobile view, I increase the text size for "Startup" to 28, when I change to Desktop view. The desktop view still looks great and the text size for "Startup" is maintained at its original size, which is perfect.

How Much Does Brizy Cloud Cost?
Compared to other hosted website builders in the market, Brizy Cloud is not only easy to use but is also competitively priced.
If you are just starting out or need to build just a single website on your domain, the Personal Plan could be more than sufficient. It gives you access to all the pro features and designs that you need. It also provides you with unlimited visits and storage, meaning you don't have to worry about running out of bandwidth or storage space. At $79, that's a mere $6.58/month.
Of course, if you need to build more websites or you are running a more serious business website, go for the Freelancer Plan. And yes, as the name suggests, it is also suitable if you are a freelancer building and maintaining the website for customers. Besides allowing you to host up to 20 domains, other important key differentiators are Freelancer Plan gives you Premium CDN and SSL, plus it supports membership functionality if you need to use the membership feature.
The Premium CDN basically makes your site load much faster, regardless of where the site is accessed from the globe. This definitely an advantage that Personal Plan doesn't get to enjoy.
Brizy Cloud also has the Agency Plan which gives you the white label option. It gives the advantage to sell Brizy Cloud using your own brand and running from your own domain name. Most average users don't need that. So I won't go into details.
If you prefer to pay monthly instead of yearly, Brizy Cloud has that option too. But do note that, the monthly option, is costing you more compared to the yearly plan. Take the Personal Plan as an example, if you pay yearly, your cost is $79 ($6.58/month)
$9 vs $6.58 = Paying $2.42 more per month or $29/year.
So if it is within your budget the best is to go for the yearly option as the $79 for Personal or $299 for Freelancer are considered very cheap.
If you are really running out of budget, guess what Brizy has the Free Forever plan.
While I wouldn't recommend the free plan mainly because you are missing out on the premium elements features and limitation on using your own domain name, but hey, it is free and you can sign up for a test run.

Can I Buy Brizy Cloud For My Team Use?
Definitely. Besides the responsive builder, one of the features that make Brizy shine is it allows you to create access for your team and assign the roles. In other words, you can control the access to safeguard your account.
Account related modifications, change pass, email etc: Only Owner
Add / Delete projects, Workspaces, Publish Projects: Owner + Manager
Edit Projects in the builder: Owner + Manager + Designer
Edit only text and images in the builder: Editor
Only Preview: Viewer
As an Account Owner, you can send an invite to the person you want to give access to. For example, if you outsource content proofreading, send an invite to the person with the role of Editor, which allows him or her to make the edit directly on the copy.
If I were to arrange the sequence of the roles based on their authority it would be:
Owner – Manager – Designer – Editor – Viewer
With Owner (your good self) as the highest in the rank and Viewer the lowest.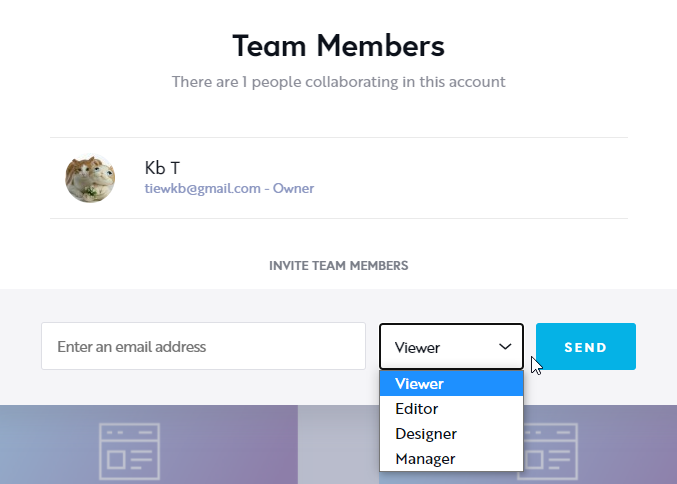 The team member will get access to their own workspace. so whatever projects they created will be placed under their own workspace, thus it won't get mixed with your original workspace (i.e your member area).
In this example, I assigned Vincent as the Manager, as he is my trusted person to manage the website on my behalf. therefore he has the authority almost the same as mine except that he cannot access the account related stuff like email, passwords.
Managers can create projects, edit and publish websites, create workspaces, etc. so yes, give only the Manager role to the person you really trust.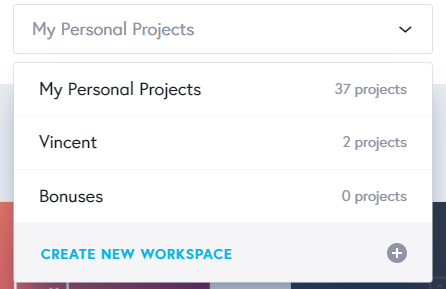 Screenshot of workspace: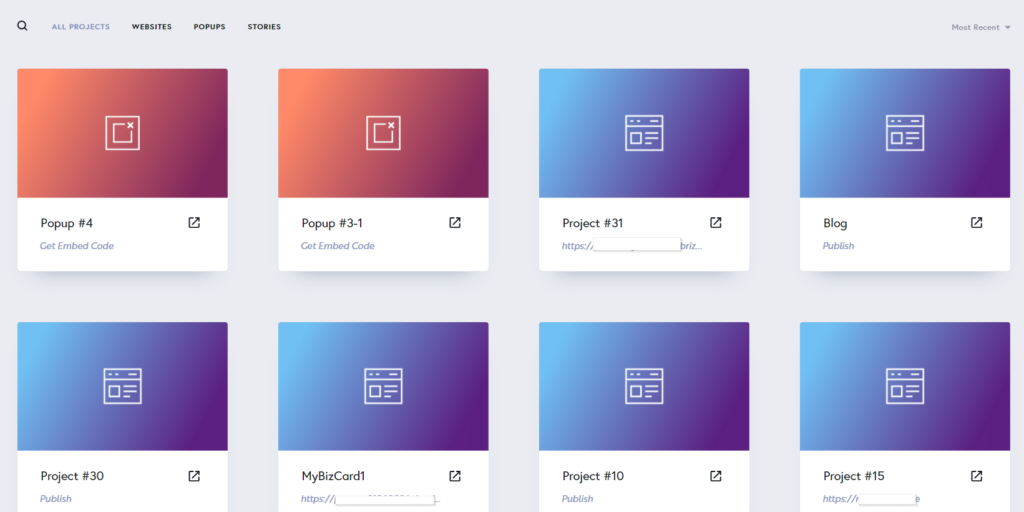 What Else can Brizy Cloud Do Besides Creating Website?
Under this Cloud platform, you can create not just websites, but you can also create pop-ups (with offers or to collect customer email) as well as Brizy Stories. Both the pop-ups and stories are great complements to websites.
Pop-ups and a standalone window are usually used to catch visitors' attention. Pop-ups sometimes give the impression it is annoying, but data has shown that when used correctly, they can boost conversion rates.
Just like layouts, Brizy Cloud does not short of Pop-ups templates.
Pretty cool, huh!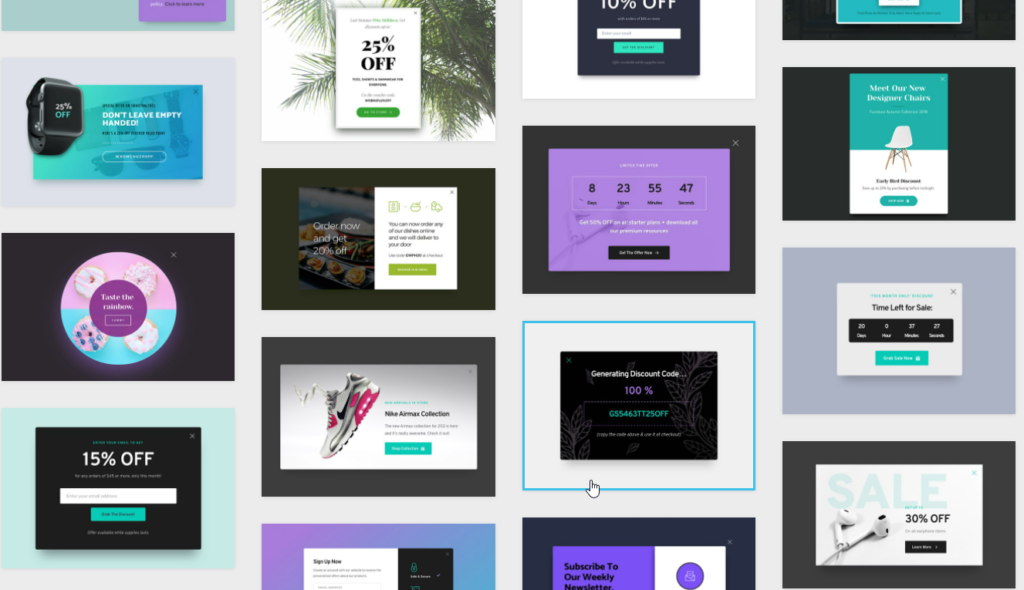 How About Brizy Stories? What Are They?
You may familiar with IG Stories or Facebook Stories. Brizy has its own version of Stories that works slightly different than IG or FB Stories.
In a nutshell, Brizy Stories are mobile visual narratives that follow a different content consumption experience. This visual format lets you browse content by sliding from one piece of content to the next.
Brizy Stories are great for any user and it doesn't matter whether you are content creators, marketers, product/services owners. You can even create an engaging and impressive story for your sister's wedding, which looks fantastically great on mobile and can be viewed on desktop too.
Stories is a unique and quick way to present your info which is fun.
You will also be spoilt with choices as there are tons of pre-made stories templates ready to use. Just load it to your editor and modify it accordingly.
What are the Pros and Cons of Brizy Cloud?
Pros
Responsive, user-friendly UI and UX.
Premium layouts (templates) are very nicely designed
The drag-and-drop visual builder experience is one of the best of all the web builders that I have tried. The other intuitive and responsive builders are from Systeme which I am personally using as well
There are a lot of time-saving features which makes website building a breeze
A very affordable tool with great features
Cons
Lack of integrations. Although it is integrated with Zapier, I wish they can continue to add more native integrations.
Lack of Funnel builder (this tool is currently in their roadmap, which will be implemented next) Check out Brizy Cloud roadmap here
A/B Split Test.