If you are looking for the best bonuses for Systeme IO, you have landed on the right page! We offer valuable and useful Systeme io bonuses that can help you kickstart faster and cut the building time and process short.
To protect the interest of existing members, the Systeme io bonuses are exclusively for users who sign up/upgrade Systeme io under BenWebBuilder's referral. The bonuses aim to help you kickstart your online business faster and cut your building process short compared to if you were to do it from scratch.
Quick Overview of Systeme IO
Systeme io is a fast and reliable business and online marketing platform that is easy to use, intuitive, and affordable.
It is a perfect platform to start and grow an existing online business. Systeme has a suite of top-notch tools, including funnel builder, email marketing and automation, blog builder, affiliate management, and more. To learn more, check out the Systeme io review.
In a nutshell, Systeme io offers what you get from cloud builder software such as Kajabi, Clickfunnels, Kartra, Leadpages, and more. With Systeme io, you get more value at a far better price. Forget about $149/month or $97/month. You don't have to pay this huge amount if you are just getting started; far from it.
Systeme io offers you exactly what you need to build, grow and scale your business, everything in an all-in-one marketing platform. The tools are fast, smooth, and very intuitive.
What Are The Bonuses?
In a nutshell, the Systeme io bonuses include done-for-you templates and funnels. It can be used for online-based businesses (e.g., affiliates/product owners/service providers) and brick-and-mortar businesses.
The bonuses could help you to speed up your building process. With the bonuses, you will no longer be creating funnels from scratch or getting stuck doesn't know what to write or how to design your landing page or funnel. It will truly cut short the time taken and save you tons of effort so that you can focus your effort on your marketing and other more important tasks.
Systeme IO Bonuses – List of Bonuses You'll Be Getting.
As a Systeme io user (sign up/upgrade using the Systeme IO link below), you will get access to all bonuses below.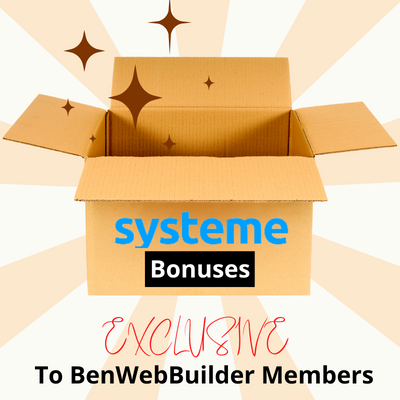 Bonus #1
SIO Affiliate Booster (for paid/upgraded Systeme users only)
Readymade sales letter to promote Systeme io as an affiliate to earn recurring commissions.
Bonus #2 (new bonus!)
Quiz Funnel (for paid product/upgraded Systeme users only)
Powerful quiz funnel to promote Systeme io. The template is suitable for general use too.
Bonus #3 (new bonus!)
Local Business Pro (for paid product/upgraded Systeme users only)
A local business website that creates an instant professional impression.Minimalistic and easy to update.
Bonus #4 (new bonus!)
"AskBen" Exclusive Bonus (for paid product/upgraded Systeme users only)
Get help and ask questions anytime, whenever you face a problem using Systeme io.
Bonus #5
Landing page Template
A clean landing page is best for products or services. Suitable for marketing.
Bonus #6
One-Page Website Template
The one-page website is perfect for both online-based and brick-and-mortar businesses.
Bonus #7
Magnet Squeeze Pages
The opt-in pages to collect leads to your business.
Bonus #8
Hero Funnel
Complete a done-for-you sales funnel (with OTO), which you can plug into your Systeme account and profit from.
Bonus #9
10x Niche Money PDF
The fast action bonus is a great addition to marketing assets to reach out to more prospects and build more leads.
For a full view of what you will get, check out https://special.benwebbuilder.com/turbo. (Note: Access to "SIO Affiliate Booster", "Quiz Funnel", "Local Business Pro" and "AskBen" will be given to users who sign up and upgrade to ANY PAID PLAN in Systeme IO or who purchase the product)
Paid Systeme io's members (who upgraded their plan via BenWebbuilder's link) will have more product access than Free Systeme members.
What Else Do I Get?
As a token of appreciation for choosing BenWebBuilder, you will get all future updates free of charge (FOC).
What If I Have Questions Before Signing Up?
You can reach out to me anytime. Happy to help. Just reach out if you have anything you're unsure of.
How To Claim The Bonuses?
After you have signed up (or upgraded your plan), contact me with the subject "Systeme Bonus Claim."
Kindly provide me with your name and email address that you used to sign up. I will respond to you as soon as I receive it within 24 hours. (kindly allow up to 48 hours)