This Systeme io review gives you an overview of what this platform is about and uncovers what you can do and expect from this web and sales funnel marketing platform. It is an all-in-one marketing platform that provides access to multiple tools within the same platform.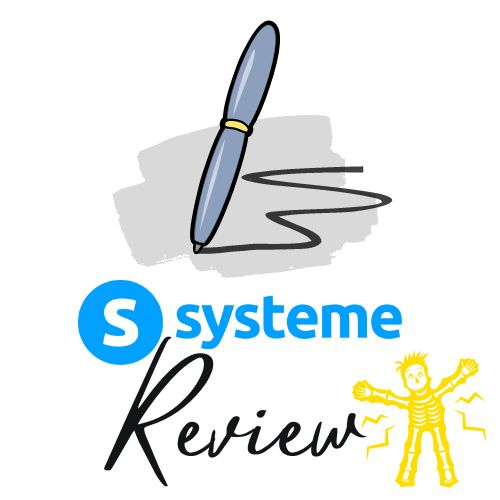 Systeme IO (pronounced System i-o) is an online tool for entrepreneurs or anyone who wants to build and grow their online business. Some claimed it was the fastest, cheapest, and most accessible tool in the market. How accurate is that statement? Let's get to know Systeme better, shall we?
Before getting to know Systeme io in more detail, let's find out the benefits or advantages of using the all-in-one marketing platform.
User-friendliness – You get to access all tools under one login. Think about access to everything under one roof.
Business Data and Report – The statistic and business reports are consolidated in one platform.
Save Cost – Subscribing to one tool is cheaper than subscribing to multiple tools.
Efficient – Easy access to all tools and reports allow you to work more efficiently and conveniently.
Support – The excellent support team can resolve any support issue fast and more accurately than ever.
Learn More About The Special Systeme io Bonus
What Have I Built with Systeme IO?
Systeme IO is so flexible that it allows you to build almost any page you want. Before we delve into the details, let's take a quick look at what I have built with Systeme io. (Fyi, the projects are growing from time to time, as I am always building new things with Systeme io)
What is Systeme io Used For?
In a nutshell, Systeme provides all the tools entrepreneurs need to launch, grow and scale their businesses to the next level. It is an online toolbox that contains the essential tools you need for your business.
Systeme IO allows you to do all the essentials you need in running and growing a business. With Systeme IO, you can:
Create sales funnels
Do email marketing
Create and sell online courses
Create websites and blogs
Run and manage affiliate programs
Run marketing automation
Who Is Systeme io Suitable For?
Online Marketers – Affiliate marketers, product owners, service providers, and anyone wanting to build exposure or sell online.
Offline Marketer – Brick-and-mortal business owners (i.e., offline business owners), network Marketers, agents, etc.
In short, Systeme io caters to both online and offline businesses who want to reach out to more audiences regardless if your business is targeting local businesses (eg, locksmiths or plumbers) or globally (such as affiliate businesses)
Next in this Systeme io review, we look at the platform functionality.
Systeme IO Functionalities
With Systeme, you can create funnels (with upsell, downsell, order bump, and any combination, share funnel), collect visitors/customers' email (with tagging features, automation rules & workflows), create engaging blogs, create memberships/online courses, set up an evergreen webinar, and run your affiliate program.
The builder is so flexible and intuitive. You can create pretty much all types of SEO-optimized pages that you need. Promo pages, one-page websites, full-blown websites, product pages, sales letters, catalogs, services pages, profile pages, and more. With the built-in user-friendly drag-and-drop editor, adding and changing anything on the page can be done on-the-fly.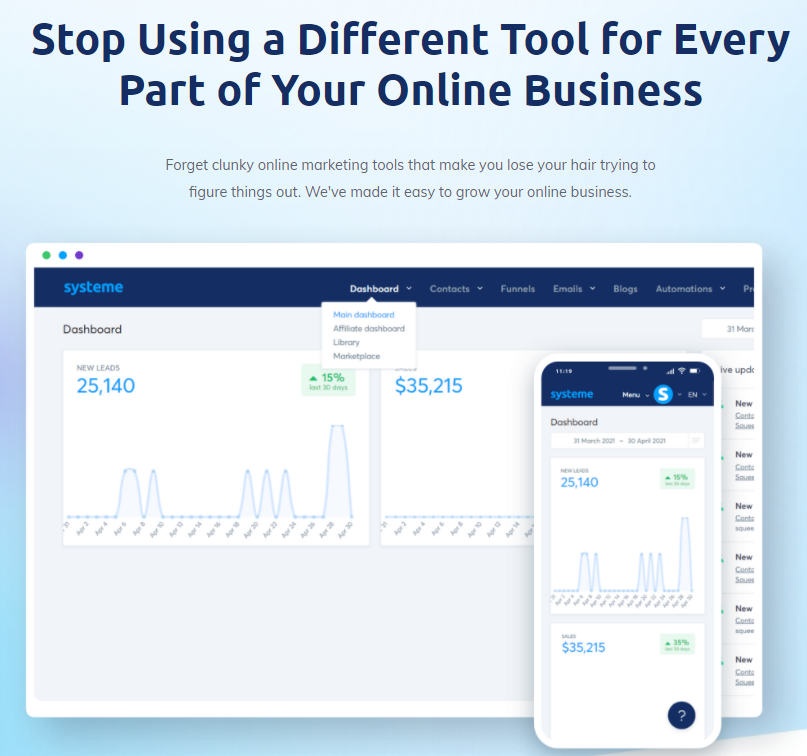 Sales Funnel Builder
With Systeme IO sales funnel builder, you can create both simple and advanced sales funnel. The typical simple sales funnel includes an opt-in page > Thank you page.
In the more advanced sales funnel, you can include multiple levels of "upsell" and "downsell" by adding the sales funnel steps. In addition, you may add an order bump on the checkout page, which is a great tool to increase your revenue.
There are tons of professional and nicely done templates which you can choose from. Systeme has different sets of templates depending on the types of pages that you selected. Whether opt-in pages, thank you pages, landing pages, or more.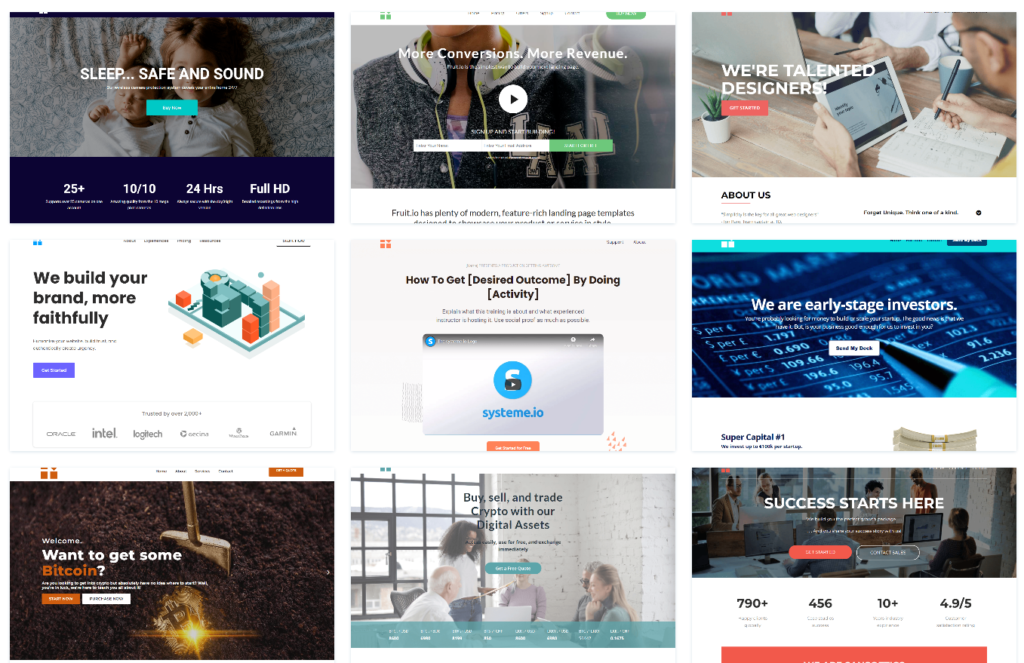 Email Marketing
With Systeme's email marketing tool, you can create campaigns and send newsletters.
With Campaigns, you can schedule the email sequence to be sent on a pre-determined time or day.
The newsletters allow you to reach out to your subscribers whenever you need them. Just create an email and send it out anytime. You can choose the segment of subscribers you want to reach based on the tag. So that you know you are writing to the right target.
Website Builder
You can create websites with the same builder, which is highly flexible and user-friendly. Everything is drag and drop simplicity, so don't worry about the technicalities.
For example, to place an image, you will drag and drop an image element to your canvas, and from there, you can insert the image that you desire. It is simple like working on a word processor program.
Create a simple one-page site or multiple pages site. The builder can handle it well.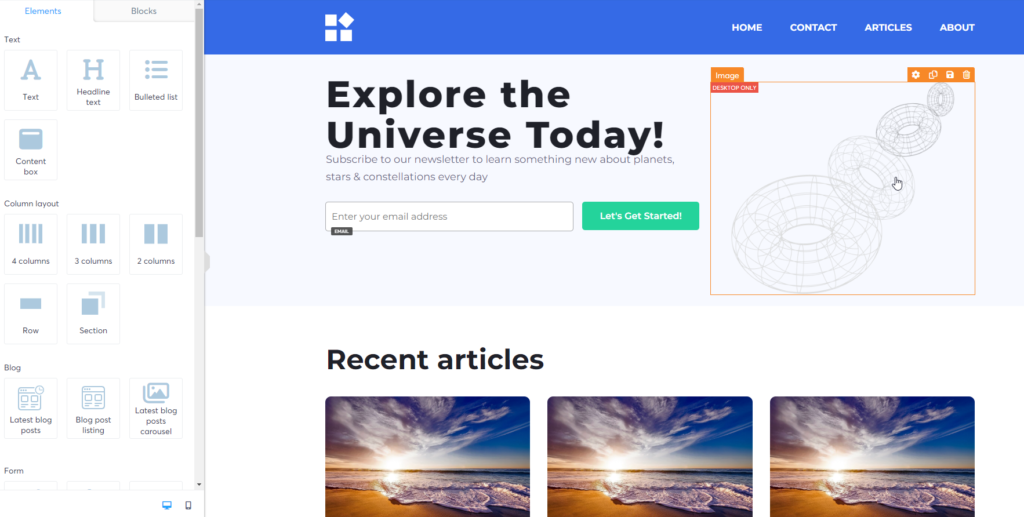 Affiliate Program Management
Instead of selling and promoting the products or services yourself, you can leverage the affiliates to do the promotion and selling for you.
Build the army of affiliates and generate sales passively. It is a win-win for the affiliate and product owners (you). You generate more sales without your direct effort, and the affiliates get commission without worrying about product creation and support.
Configure the amount of commission for your affiliate and the payout delay based on your preference.

As the product owner, you can also publish your products to the Systeme IO marketplace, which helps you to get more exposure and traffic. Systeme IO marketplace works on the same concept as Clickbank, whereby other users can promote your product and earn commissions that you have set.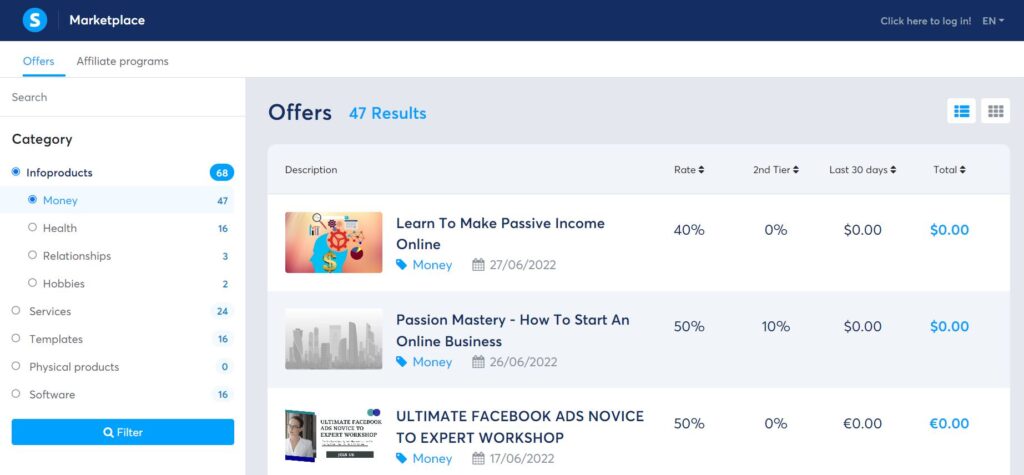 Business Automation
Automation puts your business on autopilot. Automation saves you time by pre-setting the rules or workflows. You can use automation to automatically deliver products to customers upon purchase, automate email campaign subscriptions, automatically tag or untag your contact, and more.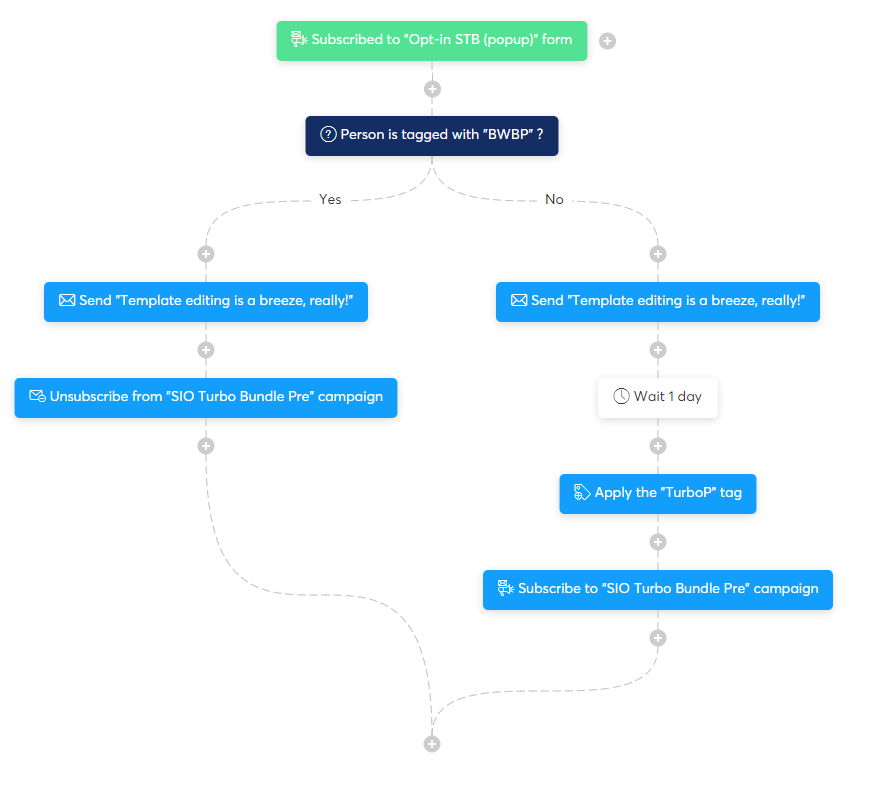 Evergreen Webinars
Evergreen webinars are pre-recorded webinars that allow you to benefit from webinar lead generation even when you are busy with something or when you're taking a break and are out of town. Once configured and set up, it runs automatically on its own.
The evergreen webinar has been popular and widely used nowadays. You should take advantage of it to grow your audience and make sales.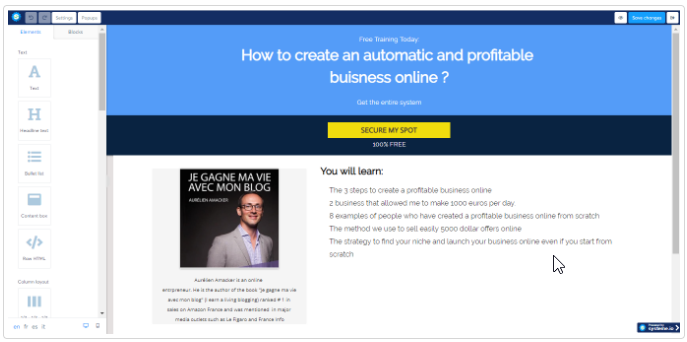 Online Courses
Selling online courses is a profitable business. You can create simple or advanced courses with multiple modules/lectures based on your expertise or knowledge.
It can be text-based or video-based, depending on your preferences. No more concern about the technical knowledge required to build online courses. Systeme IO makes it very simple to create and sell online courses online. You can accept payments and manage your students with ease.

Blogging
A blog is a perfect tool for you to post articles and updates while getting more visibility and gaining SEO benefits. Writing quality blog posts frequently can help to boost the traffic to your website.
With Systeme blogging tool. It is very simple and straightforward. You will love Systeme's blogging tool if you feel WordPress is overwhelming. It has a very minimal learning curve to start, and it is a child's play with video tutorials.
Sell Products
Selling is a must if you want to generate money. With Systeme IO, you can sell digital products (such as PDFs, checklists, online courses, etc.) and physical products (anything tangible) such as watches, gadgets, etc.
Accept payment easily with Stripe, Paypal, and MercadoPago.
No technical experience is required to integrate with payment gateways.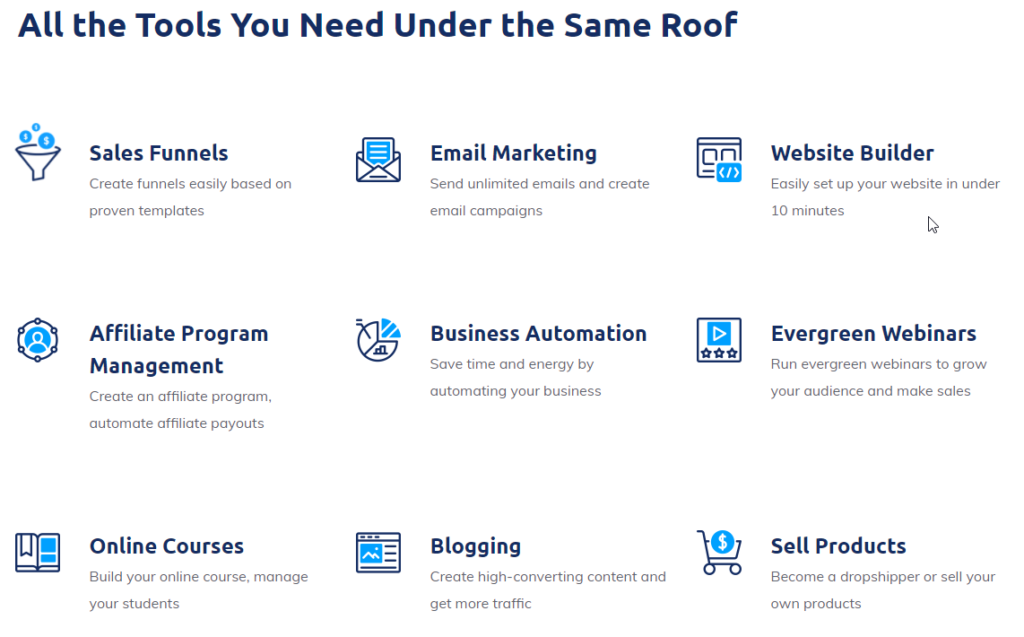 *Check out what online tools Systeme replaces
And mind you, the tools are solid and very responsive. (it is not a half-cooked tool, unlike certain platforms in the market I used in the past).
I like how fluid and responsive Systeme's drag-and-drop What-You-See-Is-What-You-Get (WYSIWYG) builder experience is.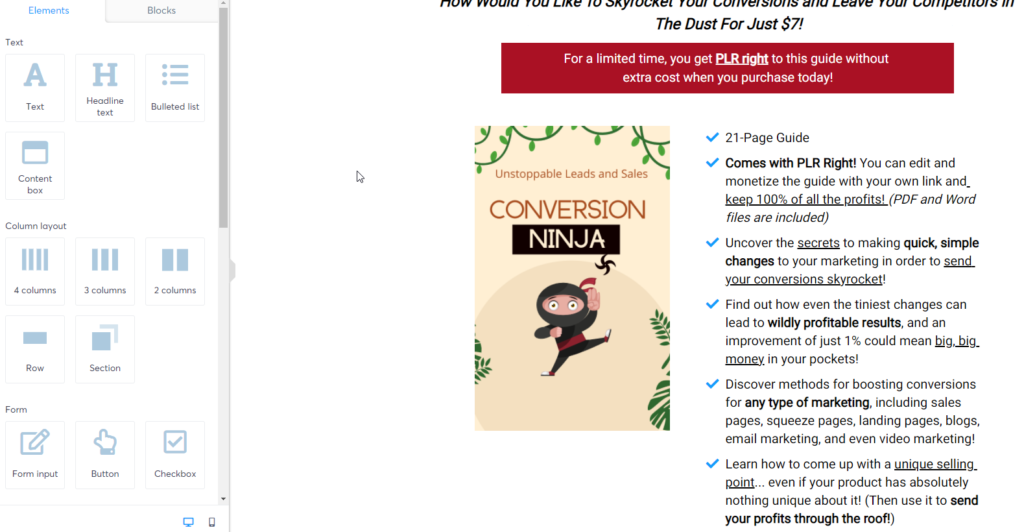 Talking about other platforms that I used myself (I bought and paid thousands of dollars), Systeme, by far, is the best. One of the past platforms I used has over 2 dozen tools…and yes, that is a lot. While from a glance, it seems that that is a lot of value provided with tons of tools, unfortunately, most of the tools are primarily small utilities that I hardly use (if I use them at all). Furthermore, they are buggy and laggy. The quality is far, far behind what I get from Systeme.
Systeme IO Product Support
The Systeme io review is incomplete without talking about the product support. Good support is very important in any product or service we buy. Would you buy a product if the support sucks? I bet you won't.
Responsive and Experienced. That's the support you can expect to get.
The support staff is experienced and friendly, and they take time to listen and understand the issue you're facing before giving you the solution. 99% of the time, the problem I faced was solved within 1 email. The email support is as good (in fact, far better than most phone support).
Systeme io has a comprehensive knowledge base that answers the most common questions. The knowledge base is easily accessible that provides a step-by-step guide. Very helpful, to be frank.
The official Systeme io Facebook community (which currently has over 20K members) is a great place to bounce ideas around members. Don't be surprised that the support staff team also actively answers questions in the FB group, which is fast.
If you are new to Systeme io, the online training provides a complete course on using Systeme io. That comes in handy to get started fast and in a short time.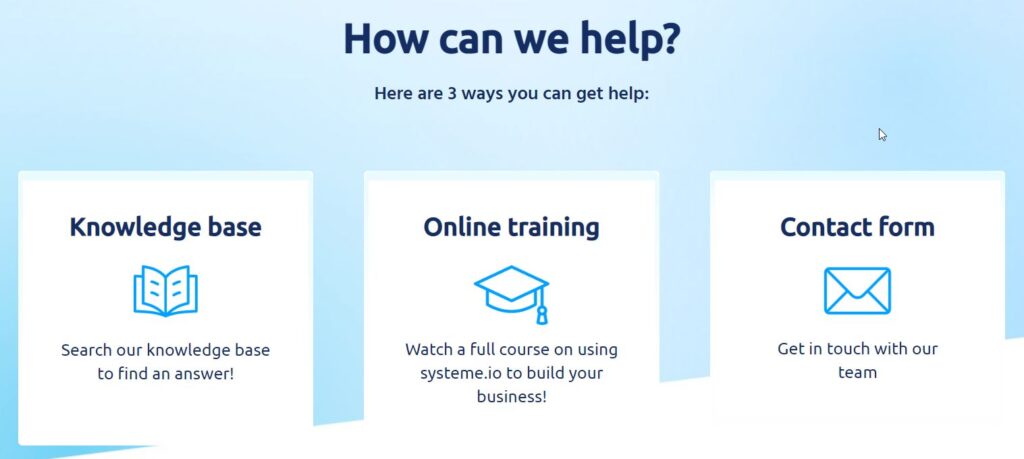 Systeme IO Pricing
There are great platforms in the market, but none match what Systeme IO can offer at such a reasonable price. A lot of marketing platforms in the market are outright overpriced.
Pricing-wise, Systeme has free forever plans (no credit card needed), which is a no-brainer, especially for those who are just getting started and don't have much budget to splurge on online tools. It is very affordable. (in fact, far way reasonable for what the software can do compared to its competitors).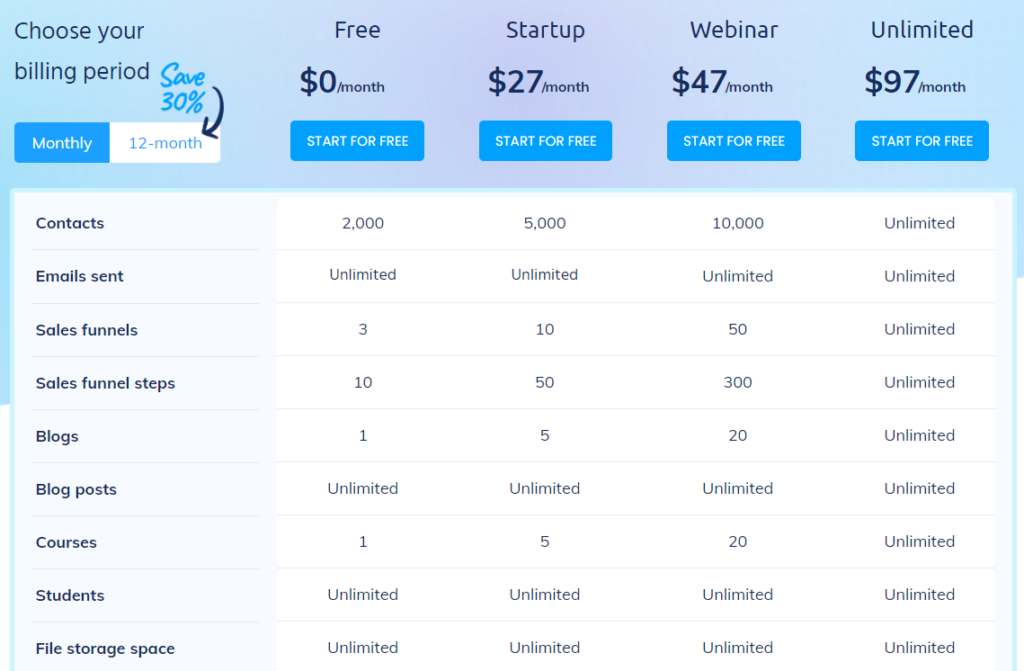 Even the paid plans are still cheaper than Systeme competitors (for only $27 per month, you can manage up to 5,000 contacts and enjoy unlimited email sending)
Compared to other funnel builder software such as Click Funnels and Kartra. Systeme offered more features at a lower cost. Click Funnels and Kartra are fast and responsive builders like Systeme, but their price point is too high. As for GroovePages (page builder tool under GrooveFunnels), it is laggy and difficult to use.
Systeme Vs. Click Funnels
Click Funnels $97/month Plan allowed only 20 funnels (with a limitation of 100 pages) connected to 3 domains. There are also no email marketing and automation tools in this plan. Lite users who need a lesser funnel (10 and below) do not have much choice of lower plans as the basic or $97/month is the lowest plan available.
Update (22 Sep 2022): Clickfunnels 2.0 Beta is coming out in a few days, and I heard the CF price would be revised too. That means those using Clickfunnels would have to pay extra! If you are a current user who pays $97/month for the most entry plan, don't you think it is better to put the extra funds into marketing that brings you more traffic, more leads, and more cash in your pocket?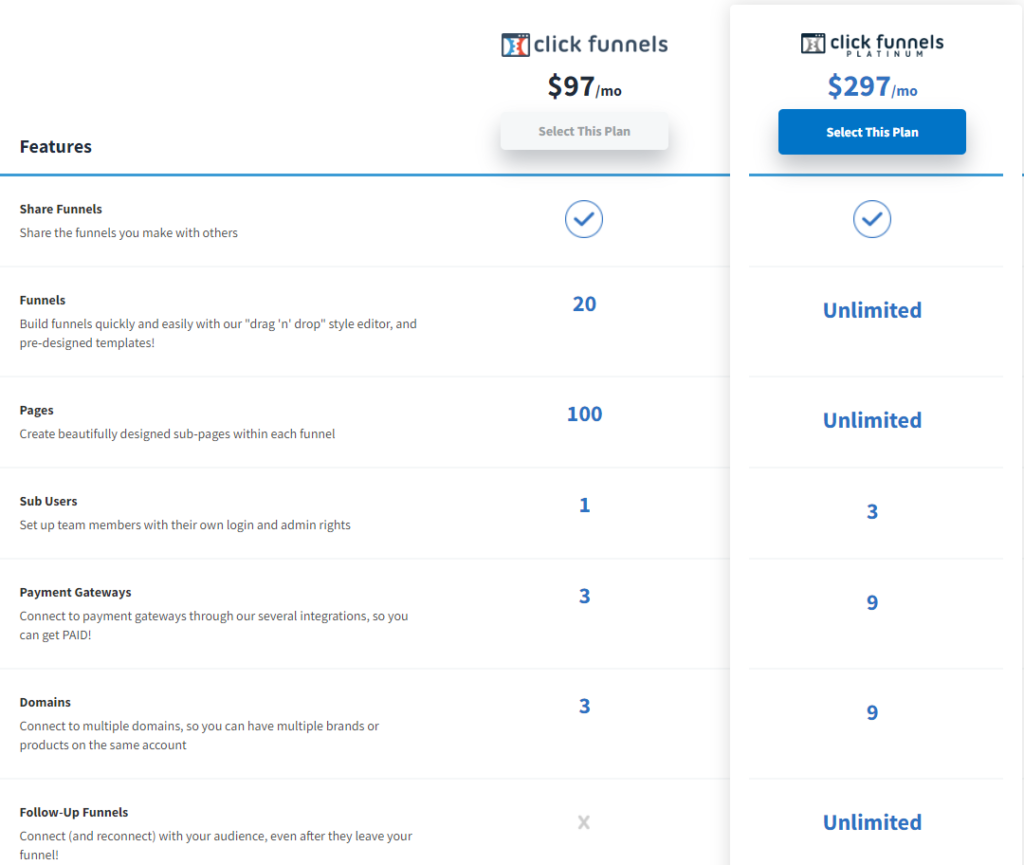 Systeme Vs. Kartra
Kartra offers more pricing options, but the pricing is still on the high side. The Starter Plan @ $99/month seems to have some limitations, including leads only up to 2,500, with only 1 custom domain. The membership/courses are only limited to 2. This is a disadvantage to Kartra users who paid $99 per month.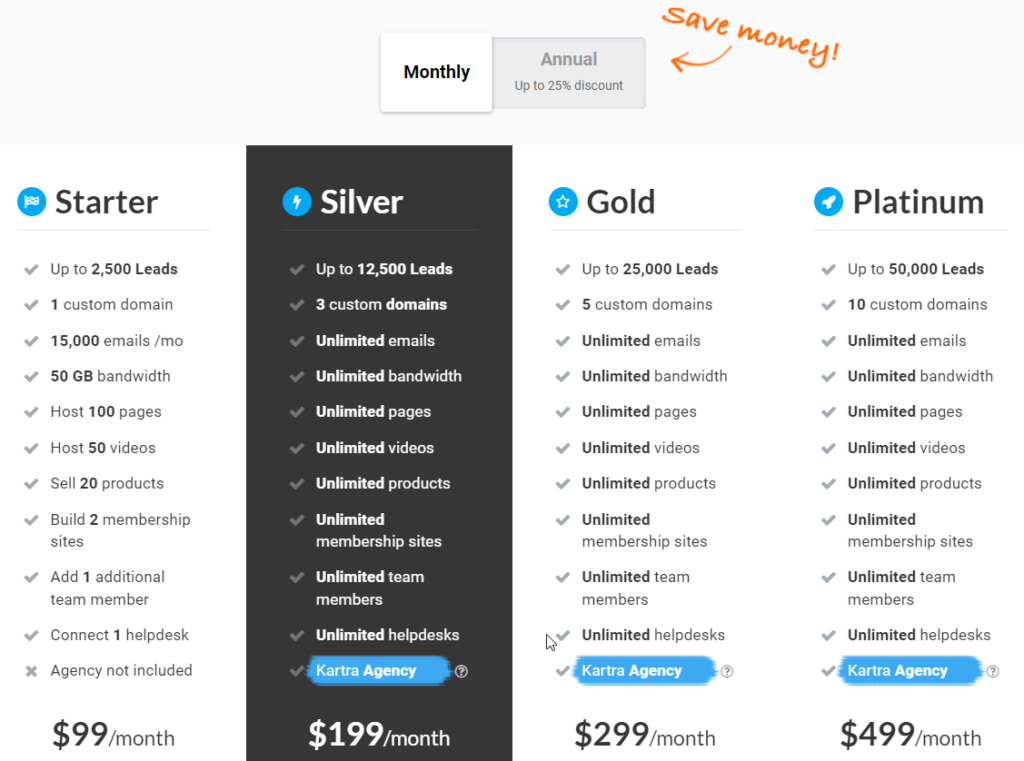 Here's the brief breakdown of key functions for entry plans (monthly payment plans):
| | | | |
| --- | --- | --- | --- |
| Features | Click Funnels ($97/month) | Kartra ($99/month) | Systeme ($27/month) |
| No contacts /Leads | only through 3rd party integrations | 2500 | 5000 |
| Custom Domains | 3 | 1 | 10 |
| Number of Pages | 100 | 100 | 50 (funnel steps) Unlimited (blog posts) |
| Email marketing Tool + Automations | Not Available | Yes | Yes |
| Number of Funnels | 20 | data not available | 50 |
Summary of Cost Comparisons
Click Funnels – Min Cost: $970.00 Max Cost:$2,970.00 (note: (a) Based on annual pricing of Basic and Platinum (b) Click Funnels does offer a free trial for the initial 14 days)
Kartra – Min Cost: $948.00 Max Cost: $4,548.00 (note: (a) Based on annual pricing of Starter and Platinum (b) Kartra does offer $1 for the initial 14 days)
Kajabi – Min Cost: $1,428.00 Max Cost: $3,828.00 (note: (a) Based on annual pricing of Basic and Pro (b) Kajabi does offer a free trial for the initial 14 days)
Systeme – Min Cost: $0 Max Cost: $828.00 (note: (a) Based on annual pricing of Free and Unlimited)
*pricing last checked on Jun 6th, 2022
In Systeme, the minimum cost you will spend is $0 (Free Plan), and the maximum cost you will incur(when your business grows) is $828 per year. This speaks volumes about the savings. Compare on other platforms, and you will realize this is mind-boggling.
Talking about features, you get unlimited of everything on offer with Unlimited Plan in Systeme IO. The highest plans in ClickFunnels(Platinum) still limit certain features; for example, the number of custom domains max. is 9. While Kartra Platinum does not just limit the custom domains (i.e., 10 custom domains), it also limits the number of leads to 50,000. As for Kajabi, there are limitations on 20,000 active members, 100,000 contacts, 100 products, and a few other limitations in its Pro Plan.
Trustpilot TrustScore Ratings
*source: trustpilot.com (date: 6 May 2023)
The following are comparisons of Trustscore some of the landing page builder platforms in the market. Not all are categorized as all-in-one marketing platforms like Systeme IO, some are just website/page builders with no email system (autoresponder), online course/membership, evergreen webinar, etc.
The TrustScore is based on multiple factors, including customers' experience using the platforms.
Systeme IO TrustScore
Builderall TrustScore
ClickFunnels TrustScore
Groove.cm TrustScore
Kartra TrustScore
Wix TrustScore
HighLevel TrustScore
Leadpages TrustScore
Unbounce TrustScore
Leadpages TrustScore
Kajabi TrustScore
What Are The Pros and Cons of Systeme IO?
Systeme io is an awesome marketing tool, but of course, while it is a great SAAS platform, there are areas that Systeme needs to improve. So what are the pros and cons of choosing Systeme IO as your business marketing platform?
PROS
Integrated Solution Advantage
As an all-in-one platform, Systeme simplified the entire funnel and selling process. You can build a landing page, create a form to collect email and automate product delivery without needing third-party tools. That translates to cost-saving and quicker implementation. This integrated solution is excellent for both newbies and seasoned online marketers.
Reasonable Price
Forget overpriced software tools like Kartra, Kajabi, ClickFunnel, Leadpages, etc. You are better off spending on marketing campaigns to get leads rather than software tools that charge you an arm and a leg.
Intuitive and User-Friendly
The whole dashboard design is so simple and clean. It is very easy to navigate around Systeme, and the learning curve is minimal.
Readymade Templates Speed Things Up
Whether you want to create a pop-up to collect emails, a sales page, or an opt-in page, Systeme makes it easy. The readymade templates make the setting up process hassle-free and fast. You're ready to publish; just change your text, images, or anything you want to add.
What-You-See-Is-What-You-Get (WYSIWYG)
The editor gives an excellent experience to work with. It makes the building process fun. With drag-and-drop simplicity, you can add and adjust any elements easily. Couldn't get any simpler than this.
CONS
Limited Third-Party Integration
If you are currently using Aweber, ConvertKit, GetReponse, or any other 3rd party mailing services. Unfortunately, Systeme does not provide many choices for native integration. (It has ActiveCampaign native integration, though).
There are solutions if you still need to connect to your existing provider (e.g., Aweber). You can either (a) embed the contact form into your Systeme page or (b) connect to Aweber via Zapier (read more about the Systeme third-party apps integration.
If you are just starting and have no existing autoresponder or mailing tool to connect to, use the built-in mailing tools in Systeme, which is fantastic. It offers good deliverability with a simple user interface.
No Plugin Support
Unlike WordPress, which allows users to use plugins to add specific functions to the site, Systeme doesn't use plugins. Well, all SaaS-hosted platforms I know don't support plugins (e.g., Kartra, Kajabi, ClickFunnel, Wix).
My view is that, as all important functions are already built into the system, plugins aren't necessary as the plugin will only add complexity to the system and may create plugin incompatibility issues and lead to site crash (which is common in WordPress).
So the lack of plugin support in Systeme (and on SAAS platforms) is positive, as all the necessary features to run a successful business are already built into the system.
Systeme IO does offer a free forever plan, with no credit card required. That means you can create landing pages and sales funnels, create excellent email campaigns with automation, and use other amazing features without paying a single cent.
Unfortunately, if you are looking for a paid plans Systeme io lifetime deal, there isn't any on offer. And I doubt if Systeme IO or Aurelian Amacker himself would offer LTD anytime soon.
Systeme IO is growing by leaps and bounds and is no longer a brand new company in the initial growing stage. For a new startup and business, a lifetime deal is a part of a marketing strategy in that the company sacrifices or exchanges the operation resources (such as server bandwidth, disk spaces, and more) with product and company branding and fund. There is an ongoing running cost to keep the service alive, so not all SAAS services has LTD offered to customers.
That also explains why big-name marketing platforms such as Clickfunnels, Kartra, Kajabi, and many more do not offer lifetime deals for their products.
Should I switch over to Systeme io?
If you are one of the users of platforms such as ClickFunnels, Kartra, Kajabi, GrooveFunnels, or the like, seriously, you want to try Systeme io. Sign up for an account and take it for a spin.
It's not too late to re-evaluate your current platform. Compare the features, price, intuitiveness, and user-friendliness of the tool. The price of Systeme io itself will put a big smile on your face. (hint: don't be surprised that most of the software in the market is way too overpriced).
Give Systeme a shot.
What's My Take?
After reading quite an in-depth Systeme io review, you should get a pretty good idea of this online tool.
As a user of different SaaS marketing platforms for the past few years, including Builderall, GrooveFunnels, Clickfunnels, and more, I can't recommend Systeme io enough. This is by far the best and most value-for-money online marketing platform.
Systeme provides you with what you really want for your online business, i.e., building sales funnels, collecting leads, and automating the process. The integration with Stripe and Paypal makes collecting payments in 25 currencies easy. The membership/online course and evergreen webinar are great extra features, although they may not be needed for all users.
With Systeme, you pay for quality tools to build a successful business.
Why Do You Need Systeme io?
3 MAIN REASONS why you need Systeme io:-
Systeme io is an all-in-one solution. All essential tools you need under one roof. No more dozen of software subscriptions and pay hundreds to thousands of dollars. Eliminate the problem of integrations as everything works seamlessly.
Easy-to-use. Systeme io is very user-friendly, and the interface is clean, well-organized, and free from clutter. Suitable for newbies and seasoned marketers.
Competitive pricing. Systeme io offers a solid, great features platform at highly affordable pricing that could save you hundreds to thousands of dollars, no joke. (you should forget about overpriced competitors' software)
(still not convinced? check out 10 reasons why Systeme io – all in one marketing platform)
P.S: To sweeten the deal, I have offered special bonuses for those who sign up for Systeme IO under BenWebBuilder. To learn more, check out Best Systeme IO Bonus.